Superior Bungalow 5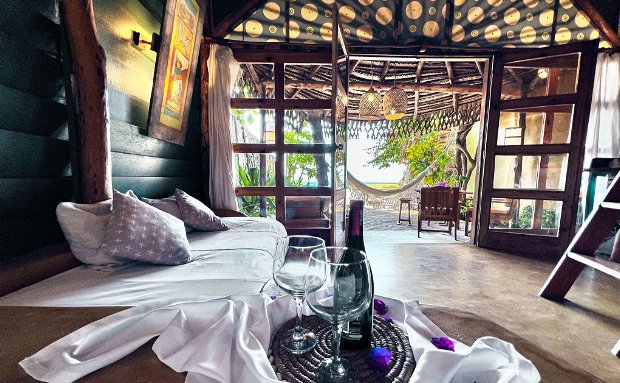 Welcome to our superior bungalow, a charming and comfortable accommodation option that can accommodate up to four guests. As you step into the bungalow, you will be struck by the natural beauty and unique character of its African-inspired decor, which features locally sourced materials and elements that evoke the spirit of the continent.
The bungalow is designed to provide a restful and rejuvenating experience, with a queen-size bed and a cozy sofa that converts into a single bed, as well as a large single bed on a mezzanine level. The bungalow also boasts an en-suite bathroom, ensuring that you have all the necessary amenities for a comfortable stay.
For your comfort, the bungalow comes equipped with air conditioning, ensuring that you stay cool and comfortable even on the hottest of days. The private patio is the perfect spot to relax and unwind, with a sunbed, dining table, and deck chairs where you can enjoy your meals or cocktails while taking in the endless sea view.
Whether you are looking for a romantic getaway, a family vacation, or a peaceful retreat from the hustle and bustle of everyday life, our superior bungalow is the perfect choice. Book your stay with us today and experience the best that our hotel has to offer.